EtherMail pioneers the Web 3.0 Email Solution, revolutionizing wallet-to-wallet communication with unparalleled anonymity and encryption. Bridging the gap between web 2.0 and web 3.0 email, EtherMail empowers users with complete ownership, control, and sovereignty over their inbox. Embrace fully anonymous P2P communication and be rewarded for engaging with relevant content in your inbox.
Participate in the EtherMail Airdrop and receive 250 EMC by signing up! Simply create an account on EtherMail, connecting your wallet, and providing a secondary email to receive your 250 EMC reward. Additionally, you can earn an extra 250 EMC for each successful referral. Notably, all rewards will initially be distributed in EMC and later converted to $EMT tokens following the token launch.
EtherMail revolutionizes email communication between wallets, promoting user-company alignment with its core principles:
Anonymous communication.
Fair compensation for users based on their value to advertisers.
Unrestricted peer-to-peer communication.
The EtherMail solution fosters high-quality email marketing experiences where both advertisers and users are aware of the benefits they provide each other.
Investments:
Additionally, EtherMail has successfully raised $7 million through two rounds of fundraising, as detailed in this article. Although substantial investment indicates strong investor interest, promising growth prospects, and future demand for the project.
Participation Steps:
To participate, simply register an email account on EtherMail.
Upon registration, you'll receive 225 EMC tokens.
Earn an additional 250 EMC for each friend you refer.
Each sent message awards 1 EMC token, which will be converted to the native $EMT token after the Token Generation Event (TGE).
Sign Up Process:
Visit the EtherMail website and click "Sign up for Free."
Connect your Metamask wallet and complete the transaction.
Enter a 2ndemail address and proceed.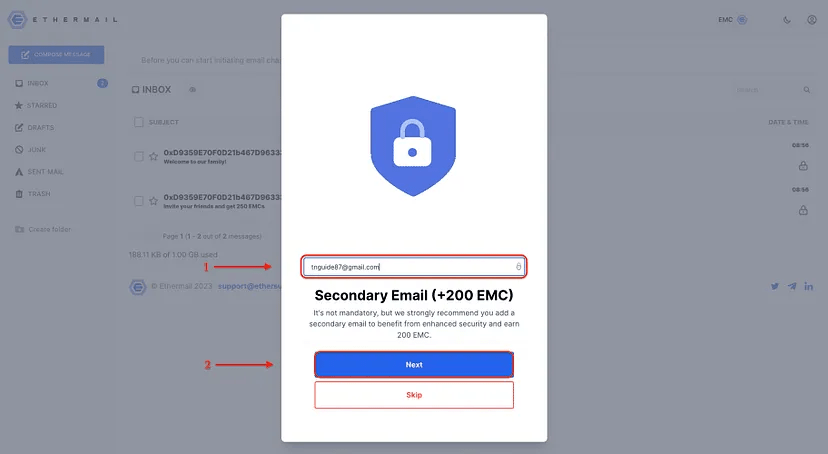 After completing the steps, you'll receive 200 EMC tokens for signing up.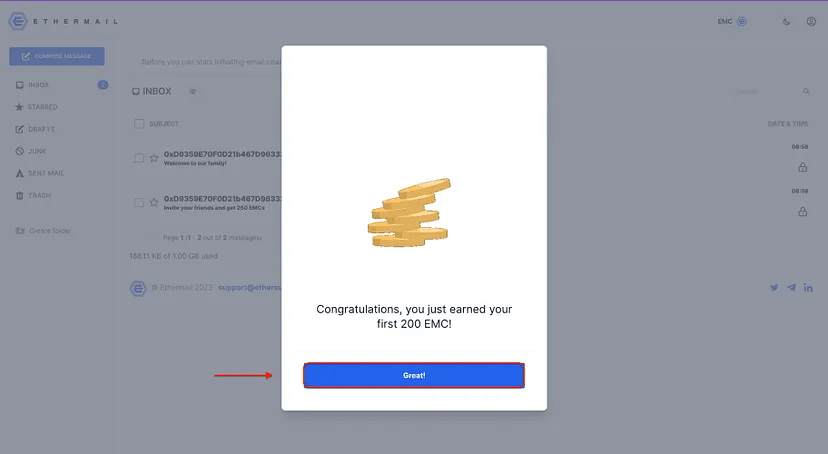 Click "Go to inbox" and activate Thor Protocol by clicking "Retrieve Encryption Keys."
Account Verification:
To verify your account, click "click to request verification" or choose "verify by SMS" using a mobile wallet.
Await verification completion.
Referral Program:
Refer friends to EtherMail using your unique referral link.
Earn 250 EMC for each successful referral.
To find your referral link, there are two options available. Firstly, you can locate it in your inbox's first message. Alternatively, you can click on the user icon and then select "Help" from the drop-down menu. By following either of these methods, you'll easily access your referral link for sharing with friends and earning EMC tokens through the EtherMail Airdrop.
Join EtherMail now and experience the future of secure, incentivized, and private email communication!